Thursday, October 23, 2014
I volunteer a few times a week for the
Braddock (PA) Free Store 15104
. It's a very simple concept: You donate what you don't want, We organize or hang it, Others take whatever they want or need.
I equate it to the
Fishes and the Loaves
. We start to get through what we think is the last bag to inspect and put out... and a car drives up loaded with clothes, toys, fresh produce, you-name-it. We jokingly tell everyone, "The only rule is you can't bring it back!" But they can. And the do!
I have been volunteering there over a year and I have watched the evolution of the needy. They now come and help out just as much as they come for reasons for their family! It's beautiful to see the community come together a few times a week.
The
Braddock Free Store 15104
has teamed up with
K.I.D.S. "Kids In Distressed Situations"
to help fight poverty and tragedies. Each year the Free Store (FREE STORE... let that sink in) donates $5,000 cash to this organization! That is a lot of money for an organization that doesn't deal with cash!
I dont have much to donate other than my time and a few outgrown children's outfits, but suddenly I found
PearUp
! This site finds you a sponsor to PAY your non-profit real cash.
PearUp
will pay up to $11 per person who clicks on a button that says
"Support This Group"
... it costs you
NOTHING
!
Then if you want to go further and earn the group the full $11 (that each person can earn) you do a few social media clicks - you join, you "like", you respond, you visit their website, post a photo, subscribe, and then you rally your friends... and then you have earned the full amount of points. But doing ANY of those earns the
Free Store
real money!
BUT WE ONLY HAVE 8 MORE DAYS!!! Please go click a few buttons for us!
Thank you from the top to the bottom of my heart!!!
<3
Heather
Disclaimer: I am being compensated for my post by Global Influence, per FTC guidelines. #JohnsonvilleSponsors
Are you ready for the most incredible deal of the season?
Receive 40% off your order
when you enter promo code
EARLY40
. Feel free to use this to grab anything your heart has ever desired from
Shutterfly
!
*Are your kids as big of LEGO fanatics as mine? Even at 4 & 2, dude. It just gets worse, doesn't it?
Amazon has this amazing
LEGO Technic 42020 Twin-rotor Helicopter
- for $19 (reg $52)
Get your LEGO Technic model building off to a flying start with the 2-in-1 Twin-rotor Helicopter. Featuring linked spinning rotors, an opening cargo door and cool rescue styling, this great model offers just the right level of challenge for first-time builders. It also has a turning front wheel for easy maneuvering on the ground. Rebuilds into a single-rotor helicopter.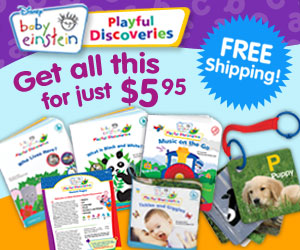 Go
HERE
!!!
Baby Einstein Welcome package
includes 3 board books and 1 plush book, discovery cards with an attachable ring for only $5.95.
- Bonus book 50% Off: Jumbo board book, Baby's First Words
- Receive a parent page with tips on how to introduce your baby to language, music, animals, nature and art.
- Make connections between images in the book and in the real world.
- Create lasting memories while developing a life-long love of reading.
- Shipping is FREE!
- Control your membership online.
-
Risk free. Cancel anytime with NO purchase commitment!